I love the holidays and all but with it comes my kid's birthday. She was due in January but decided to come in December. I think she knew she could double the number of gifts for her birthday if she came around Christmas time. She was and still is a smart cookie.
Me on the other hand? I am already stressing out about this holiday season. Never mind Black Friday and all of that. I personally am a Cyber Monday Mom. No lines. No pushing. No schlepping of the bags from the store to the car. No fighting for parking. No rolling of the eyes and yes, I can roll my eyes.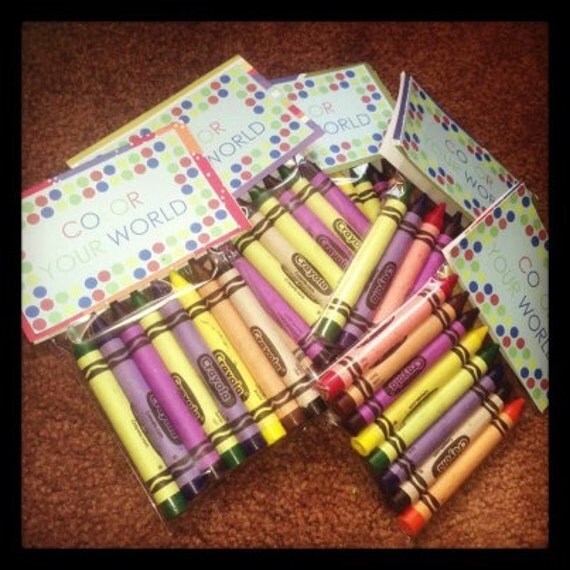 Crayon Packs from Olive it...Boutique - $3.50/pk
I am being reminded almost every other day that her birthday is coming up. We started reprogramming her early on and told her there will be no birthday party this year. I think she's okay with that, for now. However, I have to send in a class favor or something so she will feel special for the day. I can't send in cupcakes which I would love to do. No disrespect, but this whole food allergy thing is changing the in-class birthday game in so many ways. My son can't eat his fave swammich at school because of it. I can't send in any edible items because of it. What's going on?
Yes, it is a very busy time of the year in our household with birthdays, holiday parties, dinners, etc. I'm outsourcing part of the birthday planning and will use
Olive it...Boutique
who happens to be on Etsy and RIGHT in Valley Stream. No shipping costs, possibly? She puts together these
cute little favors
and even personalizes them. I know most kids send home goodie bags, but frankly, I don't need anymore mini trinkets cluttering up my home and getting in my way. I give the kids two days to play with whatever thing-a-ma-bob is in the bag and then it hits the trash. Sorry, but blogging is about transparency and there you have it. I hate goodie bags. I'll find something functional the kids can use. Who needs a notepad at 7 and a plastic ring? Hmm...maybe that is a diss. Sorry.
I think I'll see what's cooking over at
Nat's Treats
, another SAHM small business right in my neighborhood and send a tray of cupcakes on over to tap class. She charges $20/dozen. She makes any flavors with the exception of anything peanut. Her daughter is very allergic to them. She makes strawberry shortcake, white chocolate, cotton candy, red velvet, and chocolate chip to name a few. She can pretty much make anything you need.
My life just got a little easier.
Follow Valley Stream Mom on Facebook or on Twitter @valleystreammom.