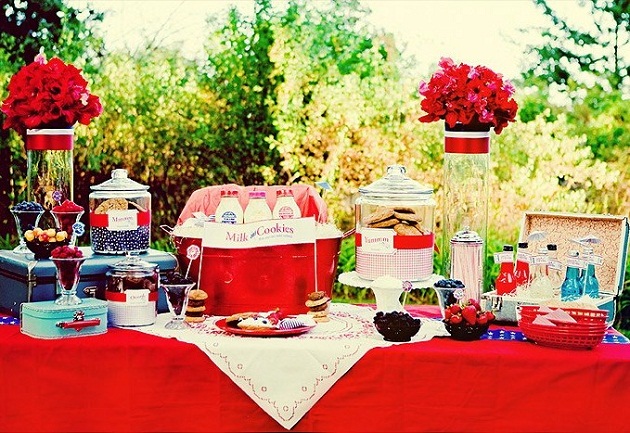 This Wednesday is July 4th and what else is there to do in this heat? Celebrate! It's a great time for families to gather together to reflect upon America's independence from the British with food, drink, and fun! Isn't this a beautiful table display I found on
Celebrations at Home
? In my neighborhood, block parties pop up everywhere which is perfect for watching the fireworks. After celebrating my son's 4th birthday, end of school, hosting my family last week, and travelling out of state for a family reunion, my family will be lucky to eat on July 4th. I am tired!
Fireman's Field will be filled with Valley Streamers and friends from surrounding communities. I recently read that Valley Stream is "the place to be" for fireworks. Not bad, huh?
Buy your $5 tickets ASAP because you don't want to get shut out of the amazing pre-show sponsored by Valley Stream Chamber of Commerce. You can find them at various village properties including Village Hall, Hendrickson Pool and the library. All are welcome!
Fireworks Listings
Valley Stream
Wednesday, July 4th (Rain date July 5th)
Gates open @ 6:30 p.m.
Cost: $5 (limited tickets available at the gate)
Rockville Centre
Saturday, July 7th (Rain date July 8th)
Festivities begin at 6 p.m.
Centennial Park near Mill River
Dancers, South Shore Symphony, local dancers, and more.
Long Beach
Friday, July 13th
Long Beach Blvd./Riverside Blvd.
Concert/Party starts at 8 p.m.
Fireworks start at 9 p.m.
For complete details on local fireworks, please see the link below.
Fireworks displays start Saturday - LIHerald.com - Nassau County's source for local news, breaking news, sports, entertainment & shopping